Bounty Collections ,

29 Apr
'
Hello Everyone, in this new post I would like to introduce about Vexanium project, and for more details let's just go to the following discussion:
Vexanium, a decentralized marketing ecosystem for merchants to reward and promote their products efficiently.
PRE ICO – 20% BONUS
1ETH = 20,000 vex, 1 BTC = 330,000 vex, 1ACT = 10 vex
What is VEXANIUM?
VEXANIUM is a decentralized marketing ecosystem.
Utilizing blockchain technology, it builds an online marketplace that enables merchants to certify their awards and promote their products efficiently.
The VEXANIUM Platform features 4 components:
Voucher Platform:The VEX Platform will allow businesses (offline, online and onchain) to create campaigns for acquiring new customers and rewarding existing ones, using the VEX token. It will also allow the creation of vouchers by these businesses which consumers can purchase with the VEX token. This will be facilitated via the VEX web and mobile apps.
P2P Voucher Exchange:The VEX Exchange will allow consumers to trade vouchers among themselves and set their own prices. It is hosted within the VEX app.
VEX Cryptoexchange Integration:The VEX app features an integration with selected cryptoexchanges in order to allow users to directly trade their VEX token balance on the exchange.
Airdrop PlatformThe VEX Platform will also allow blockchain companies to create Airdrop campaigns for acquiring new customers and rewarding existing ones, using the VEX token. This will be facilitated via the VEX web and mobile apps.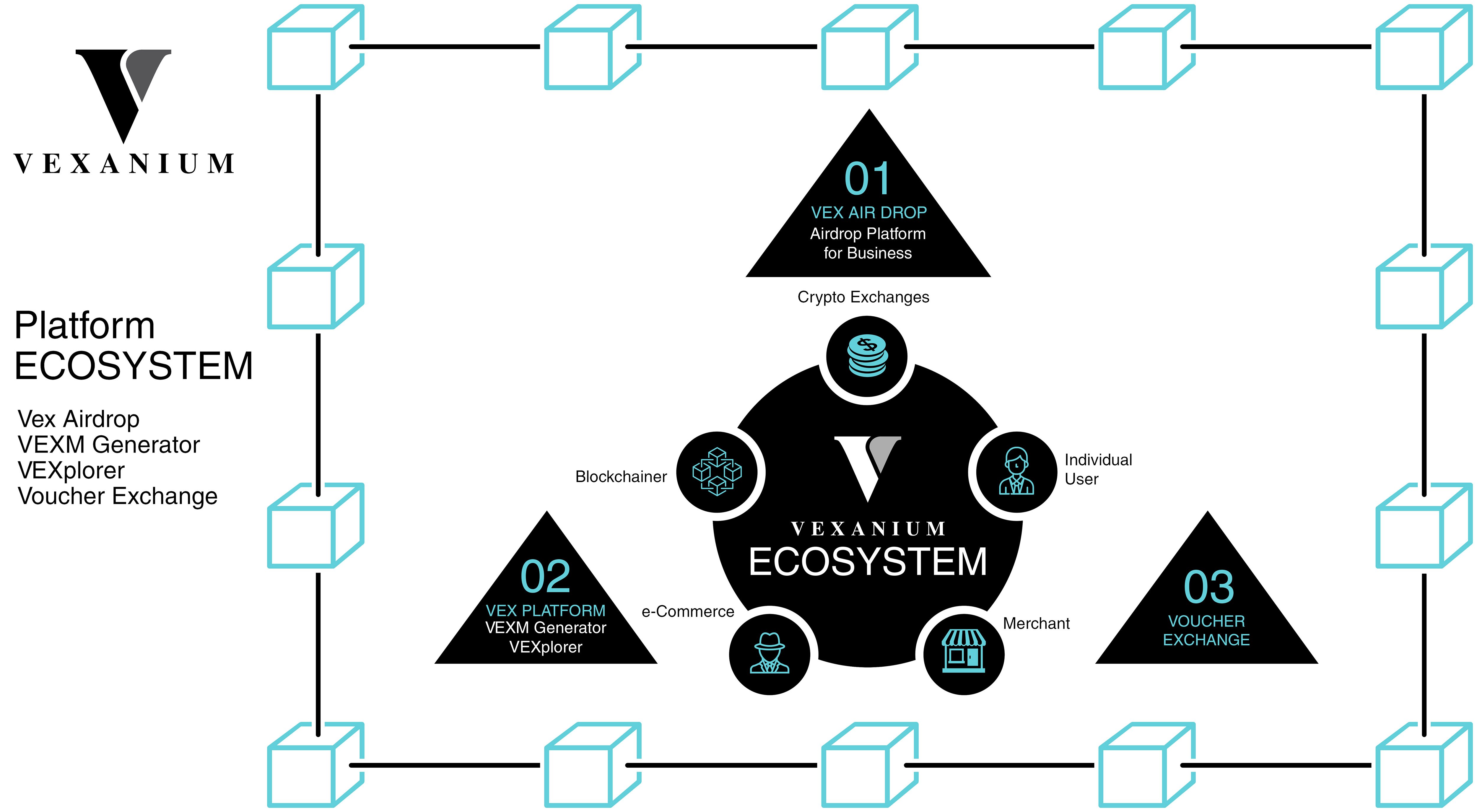 FLOW OF VEXANIUM TOKEN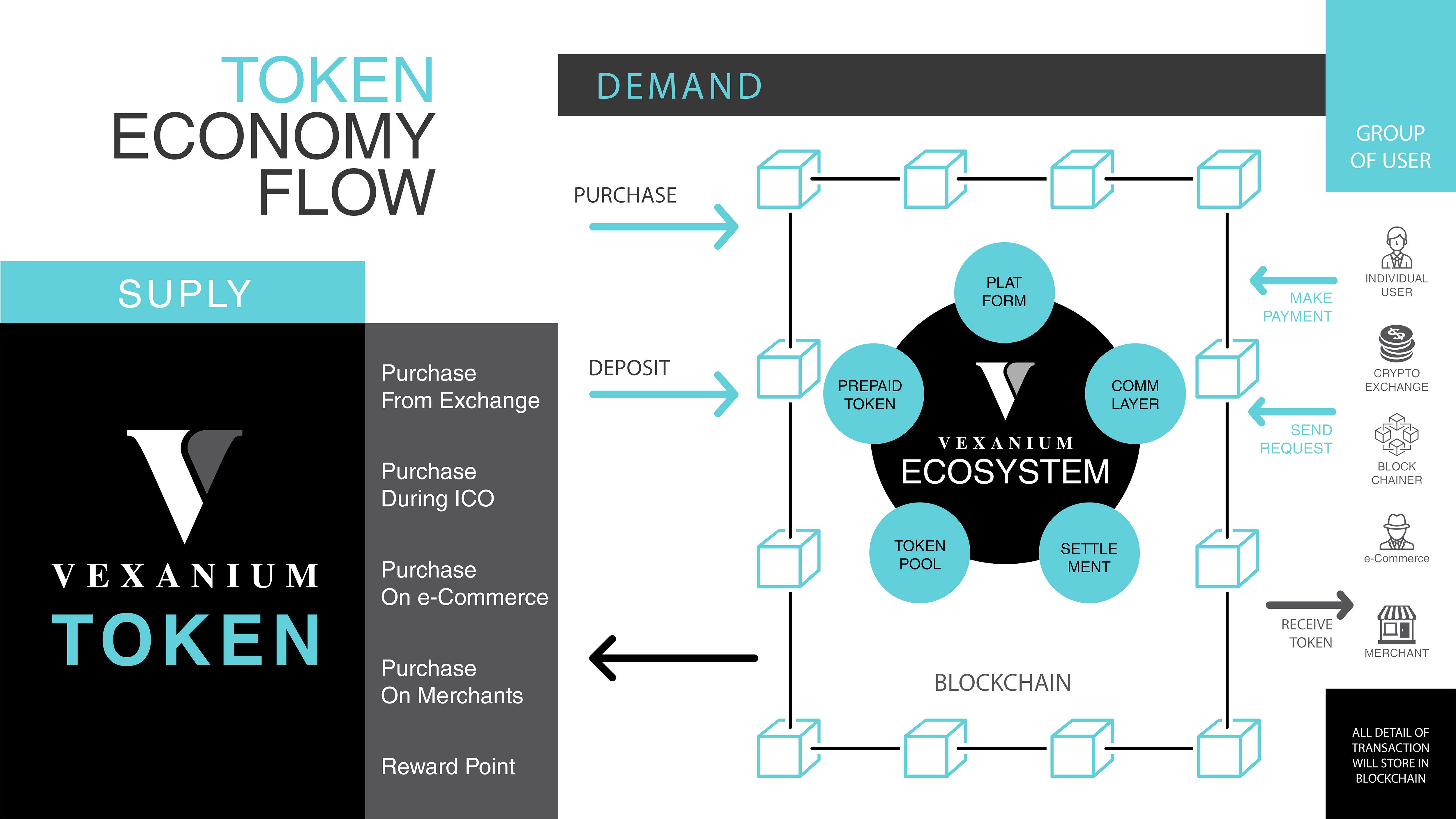 Token Information and Allocation
VEX tokens will be issued as ATP 1.0 Standard Token on the Achain
Blockchain Protocol. ATP 1.0, the Achain standard token, is a technical standard used for smart contracts on the Achain blockchain.
The total amount of VEX ever created will be 1,000,000,000 VEX.
The Token Allocation Plan is as follows: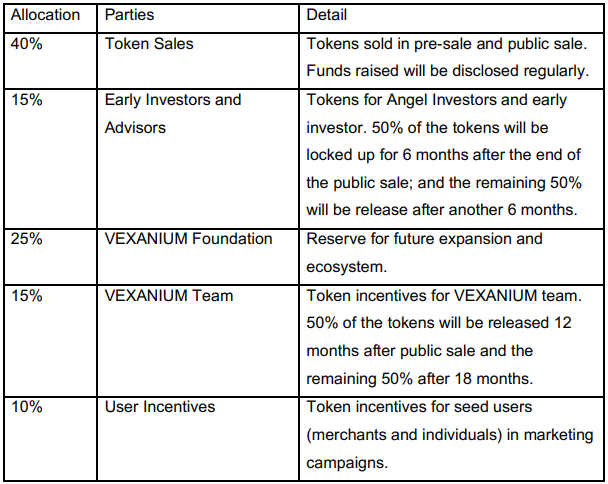 Budget Allocation
The budget is allocated as follows:
Research and Development: 30%
Offline O2O and Marketing: 50%
Operations: 10%
Others: 10%
Merchant Tokens (VEXM)
Merchant Tokens (VEXM) are created through on the VEXANIUM platform utilizing smart contracts. Tokens generated by different merchants will be named as VEXMerchant eg. VEXMB is the token of MBurger. The amount of VEXM tokens created will be decided by the merchant itself. And unlike VEX token, VEXM tokens are only tradable in VEXchange.
Token Sales/ ICO
Token Sale Conditions
ETH will be accepted for VEX in the Token Sale at 1 ETH = 20,000 VEX and 1 ACT = 10 VEX
Hard Cap: 20,000 ETH or 18,000 ETH + 2,000,000 ACT
The Token Sale will end upon occurrence of either of the following conditions:(1) The total amount of funds raised is 20,000 ETH at or prior to the end of the public sales date, [16th May];
(2) The total amount of funds raised is more than 10,000 ETH by the end of the public sales date, [16th May];
If this ICO does not generate 400,000,000 VEX tokens in sales, the company reserves the right to use the remaining tokens for a second ICO. The token price for any second ICO would be greater than in this round. The management reserves the right to terminate this ICO and, if this decision is taken, all ETH funds will be returned to the original token purchaser.
Project Roadmap
Phase 0: Project Initiation and Token Sales (Q1/Q2 2018)
Phase 1: Launch of VEXANIUM in Indonesia (Q3/Q4 2018)
During Phase 1, the VEXANIUM marketplace will be fully functional and open to merchants and individual users in Indonesia. Merchants and enterprise users can create voucher tokens and start their marketing campaigns all seamlessly via the one-stop mobile app. Customers will be able to store and redeem their voucher tokens via VEXANIUM App.
Phase 2: Establishment of VEX Ecosystem (Q1Q2 2019) In Phase 2, VEXANIUM will complete the establishment of the ecosystem by launching VEXchange and VEXplorer. VEXchange is a token marketplace that allows users to trade VEXM and VEX. Its function is to maximize the liquidity of tokens to increase the usage and redemption of merchant vouchers.
Phase 3: Business Expansion to Asia (2019)
In this Phase, we expect that VEXANIUM will already have proven its successful business model and gained significant traction in its home market. We will then expand to major cities or business hubs including Kuala Lumpur, Ho Chi Min City, Seoul, Hong Kong, Bangkok, Dubai and Singapore.
Phase 4: Business Expansion to Outside Asia (2020)
In this period.vexanium will focus and try to engage to market outside asia such as European countries, South American Countries , Africa where the most poplated countries in the world that support cryptocurrency.
For More Information:
WEBSITE || WHITEPAPER || FACEBOOK || TWITTER || TELEGRAM ||
Author: SanZoldyck
My BitCointalk profile: https://bitcointalk.org/index.php?action=profile;u=1045517;sa=summary