Bounty Collections ,

30 Jun
Hello Everyone, in this new post I would like to introduce about Umka project, and for more details let's just go to the following discussion:
UMKA is more than just a decentralized labor market.
It is an efficient project implementation and a team-building tool based on the blockchain technology.
The decentralized application UMKA is based on a fast turing-complete blockchain with inexpensive and flexible smart contracts (AgileSC) along with the Byzantine fault-tolerant (BFT) Delegated Proof of Stake consensus algorithm, based on EOS.IO.
UMKA is a comfortable space for cooperation between employers and contractors that offers a wide array of useful tools integrated into its system:
Digital Passport;
Secure contracts using the unique Agile Smart Contracts technology;
Assets for fast work of smart contracts and financial security guaranty;
15 cryptocurrencies and fiat currencies;
Arbitration system;
Project groups for cooperation with groups of freelancers;
GNMT — Google Neural Machine Translation integrated in UMKA's chat;
Free online courses from world's leading universities;
Expert communities.
How UMKA works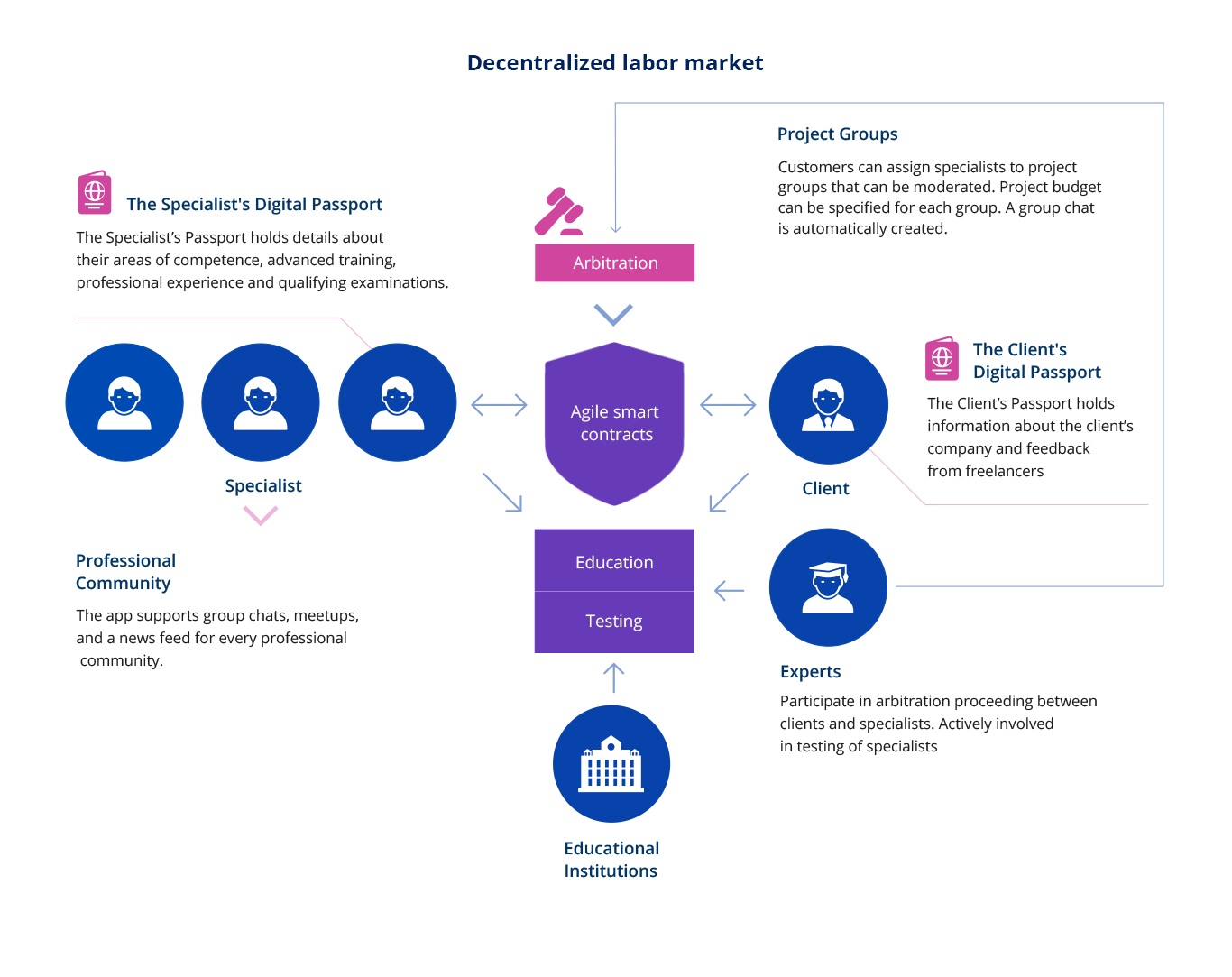 What problems does UMKA solve?
Issues and Solutions
ISSUES
No guarantee
No payment guarantee and no guarantee of a proper fulfillment
User cooperation
Interaction on most platform is only possible in p2p format. Meanwhile multiple freelancers freelancers, working on a single project are in need of live communication.
High commissions
Traditional smart contracts
On other platforms, when making a secure deal trough smart contracts users can't break the payment and the work into several stages, which increases risks
Slow and expensive
All current decentralized solutions are based on the slow and expensive Ethereum blockchain
Language barrier
It is often difficult for users from different countries to cooperate due to the language barrier
Single currency
Decentralized platforms on other blockchains operate with only one cryptocurrency
SOLUTIONS
Safe deal
Agile Smart Contracts: smart contracts that allow for progress payments and introduction of changes to contracts (with the consent of both parties)
Project groups
In UMKA employers can create project groups to organize the work of multiple freelancers working on a single task. There can be any number of freelancers in a project group. The employer signs an Agile smart contract with each of them individually
1% commission for transactions
The Platform takes a 1% commission for transactions.
Agile Smart Contracts
AgileSC is a unique technology developed by the UMKA team. They make it possible to break a project into iterations, set milestones and set them up by adjusting the three parameters: Time, Work and Budget. Using AgileSC minimizes risks for both employers and freelancers
EOS blockchain
A new generation EOS blockchain with fast and free smart contracts
GNMT in UMKA's chats
In order to make communication between users easier, UMKA's chats have the Google neural machine translation built in. Translation quality gets better with each passing day thanks to the neural machine translation mechanisms. Language pairs with the English language will be available for the users of the platform
15 cryptocurrency and fiat assets
On the UMKA platform, 15 cryptocurrencies and fiat currencies will be used. Every currency is represented by a corresponding asset in the blockchain, there are no transaction fees
UMKA offers:

TOKEN
The UMK token is an ERC20 token issued on the Ethereum blockchain.
UMKA will issue 180,000,000 tokens in one installment.
There will be no additional emission.
1 UMK –  $ 0,1.
UMKA GITHUB
Profits for investors 
The UMK token guarantees  participation in the distribution of the platform's revenue.
Funds will be distributed between UMK token holders automatically.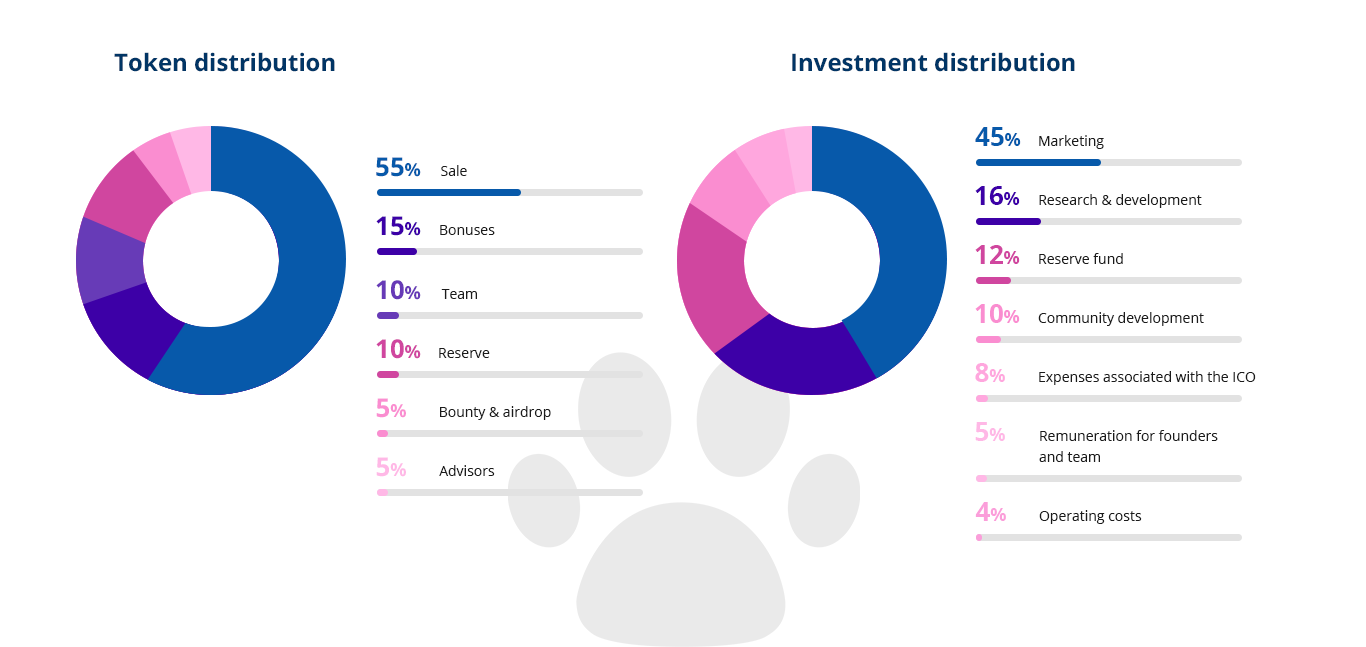 ROADMAP
Q2 2017
Idea and concept development. Development of an interface demo version for internal testing on iOS and Android
Q3 2017
App testing in target groups
Q4 2017
Concept follow-on improvement in accordance with new market and technological trends and testing results
Q1 2018
Platform announcement. Development of prototype based on the improved concept.
Q2 2018
Creation of a working prototype of the mobile app MVP on blockchain, AgileSC integration. Testing of the app in target groups. Advertisement campaign start
Q3 2018
AgileSC follow-on improvement and testing. Blockchain and interface follow-on improvement and development. Mobile and web apps alpha version launch. Open alpha testing of the blockchain and AgileSC. IPFS integration. Implementation of the functionality: project groups. Implementation of the functionality: group chats, professional communities. Hackathon
Q4 2018
Beta testing of the mobile app and Blockchain launch. UMK token listing on exchanges. Integration of educational programs. Integration with third-party services. Implementation of the functionality: a digital passport, testing systems, expert arbitration. Adding operation with 7 additional crypto currencies and fiat currencies. Hackathon
Q1 2019
Final release of UMKA application. Full-fledged advertisement campaign. GNMT integration. Hackathon.
To contribute and Know the progress of this offer, you may visit some of the following Links:

WEBSITE || WHITEPAPER || FACEBOOK || TWITTER ||<>TELEGRAM ||
Author: SanZoldyck
My BitCointalk profile: https://bitcointalk.org/index.php?action=profile;u=1045517;sa=summary