Bounty Collections ,

27 Jul

Welcome my friends to an exciting new Project today and let's take a look at their great idea:
What is CINDX?
CINDX is the blockchain ecosystem for investors, traders, asset managers and vendors. CINDX allows anybody to invest in the crypto market, and earn without specialised knowledge or skills. CINDX develops an ecosystem which allows any investor to choose a trader and/or asset manager to manage their portfolio and securely trade their cryptofunds for a reasonable success fee.
A video presentation that talks about the CINDX with qualified people on the team. Check it out below.
How CINDX works?
When a user has chosen their manager, the API and smart contracts will work.
CINDX uses the API as a "portal", allowing accounts to be managed by the selected asset management account. Then the smart contract will automatically register every trade made by the selected asset manager (on his own account) and then you can copy and run the same trade on the personal account as you wish. by generating passive income through trade. Rather than risking money with your very own risky trades, you can now search for a list of world-class managers, track their performance history, and enable them to trade for you.
You can also review your account at any time to see if you are happy with your earnings and continue to partner with your asset manager or choose a new partnership. Now you do not have to take the time to study software and analytics tools and instead, you can spend as much time as you want, while still earning passive income through crypto trading.
Another innovation by CINDX, is in the ecosystem, by designing markets in platforms for trading and analytical software, they are developing a competitive environment for vedors to create the best trading tools, and for managers to use the best trading tools. all these competitions are aimed at providing the greatest benefit to the user and this should make CINDX the center of the world for high quality asset managers.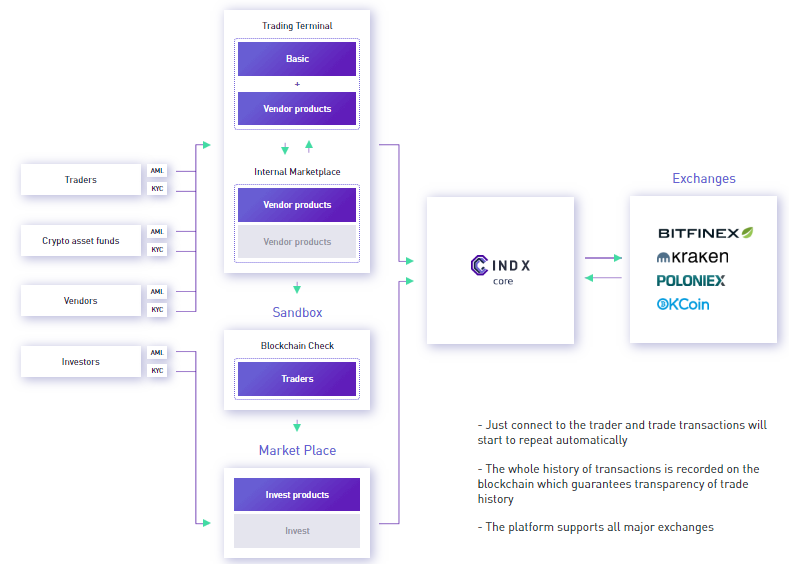 What are the benefits can be get in CINDX?
For investors
Crypto assets stay in investor's wallet.
Selection of traders according to their rating.
Automatically copying actions  of the selected trader and  replicating them on the account.
Payment of success fees only.
For traders
Crypto assets stay in trader's wallet.
Available tools from vendors: analytical and trading bots, tools for social network analytics and technical analysis.
Access to a personal blog  to post trading ideas.
For vendors
Registration and download  the products to Vendor's Hub.
Code auditing, and integrating into the system before the product becomes available for purchase by traders and managers.
Token Sale Details

Distribution of tokens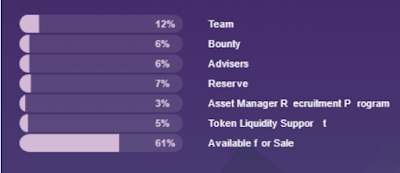 Token Deals
Token Pre-Sale: 23.07.2018
Join the Token Pre- Sale to receive a 25% bonus. Limited time offer.
Token Sale starts: 27.08.2018
Token sale bonuses will depend on number of tokens for sale
Token Sale Bonuses:
Week 1 – 15% Bonus
Week 2 – 10% Bonus
Week 3 – 7% Bonus
Week 4 – 5% Bonus
Week 5 – 3% Bonus
Week 6 – 0% Bonus
Token Allocation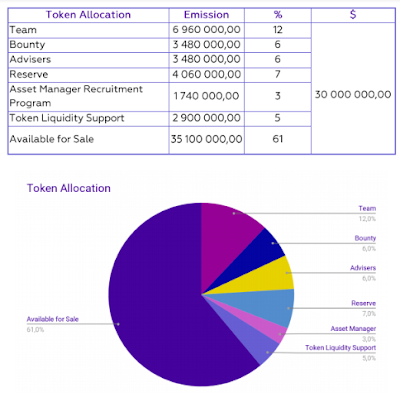 To find out more. You can connect more with Cindx in the links below:
WEBSITE || WHITEPAPER || FACEBOOK || TWITTER || TELEGRAM ||
Author: SanZoldyck
My BitCointalk profile: https://bitcointalk.org/index.php?action=profile;u=1045517;sa=summary